AUTHOR: Grant Gaines
Back in the day Monster was one of those names everyone knew. They were probably best known for their HDMI cables, but their surge protector and other AV options were commonly used. In recent years they've worked more on their audio division. Their DNA line of headsets have turned heads, with Monster DNA Fit being among the latest releases. With a more active lifestyle in mind, is it the next True Wireless headset for you, or are they better left forgotten?
Monster starts by making a strong impact with DNA Fit's packaging. The box features a contrasting black, grey, white, and red design. If that isn't enough, certain elements on each side have an eye catching glossy finish. It's the type of product that will absolutely stand out in a retail setting, with enough information to get an idea of what you're purchasing.
Really Makes a Statement
Once the slip cover is off, there is a box with a magnetic clasp holding it shut. Opening this will reveal a protective embossed paper insert, and a message from Noel Lee, Monster CEO, about "Pure Monster Sound." Lifting the red ribbon will reveal DNA Fit, along with a box containing accessories below.
Before talking about DNA Fit, I wanted to touch on the included accessories. As you'd expect, there is a helpful quick start guide. I strongly suggest checking it out for shortcuts, and other commands to make full use of these headphones. This pouch also contains a pair of stickers. One has the Monster logo in red, with the name in white with the red logo. Another document links to this page that unfortunately confirms the companion application is still in development.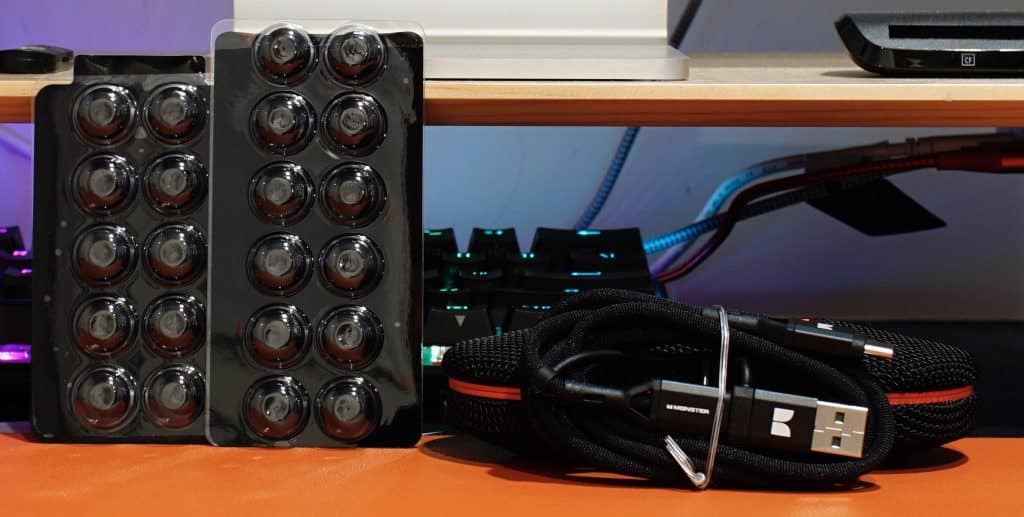 So Many Ear Tips
There is a USB-C to USB-C cable that comes with a USB-C to USB-A adapter attached. The cable is about 4′ long, with a high quality nylon braiding. In fact, it feels like one of the nicest quality cables in my vast collection. Finally, a total of 12 ear tips are included that should cover a plethora of sizes.
Similar to the box itself, DNA Fit is a little on the larger size for modern True Wireless headset. It's about 5.5″ x 2.5″ x 1.5″ in size, a massive increase from something like AirPods at 1.2″ x 0.7″ x 0.7″. The additional size is largely due to the non-removable earhooks that lie flat inside. This makes them easier to add/remove, a choice that will be divisive.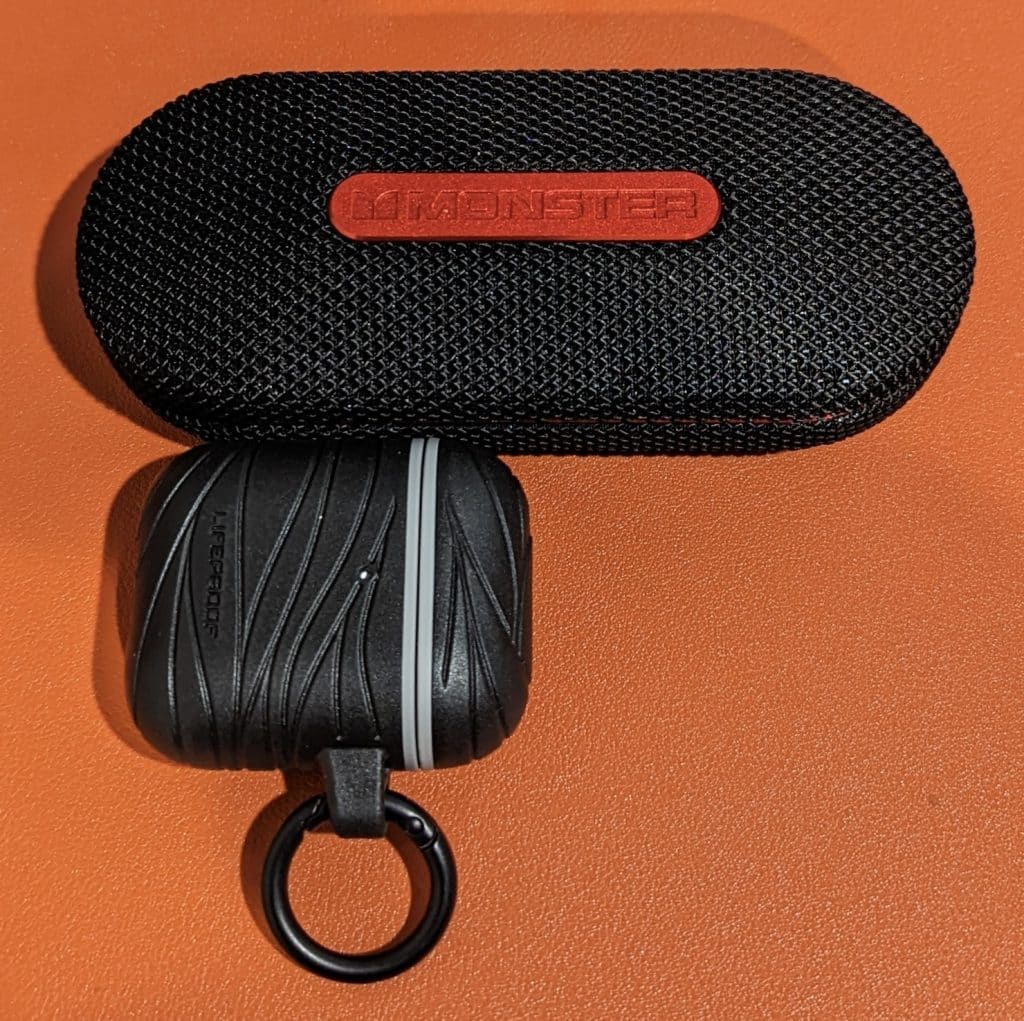 Monster DNA Fit Next to AirPods Gen 2 in Lifeproof Case
Size aside, DNA Fit feels like a nice quality product. The case comes wrapped in fabric that is easy to grip. On top is the Monster logo in a red metal, and a USB-C connection on the right side.
Despite the size and wrapping, I had no issues using DNA Fit on a wireless charging pad. Even when I used one intended for AirPods, it was able to charge them without an issue. Just keep in mind that the wireless charging is towards the bottom; not the middle or anywhere above.
At first glance DNA Fit feels fine. The headset is fairly light with a nice feel. DNA Fit's body has a distinctly matte plastic feel, with the ear hooks feeling like rubber. While these feel fine to touch/on my ear, the texture sometimes whitens after wearing. Not a huge deal, just annoying because they come off as dirtier than they likely are.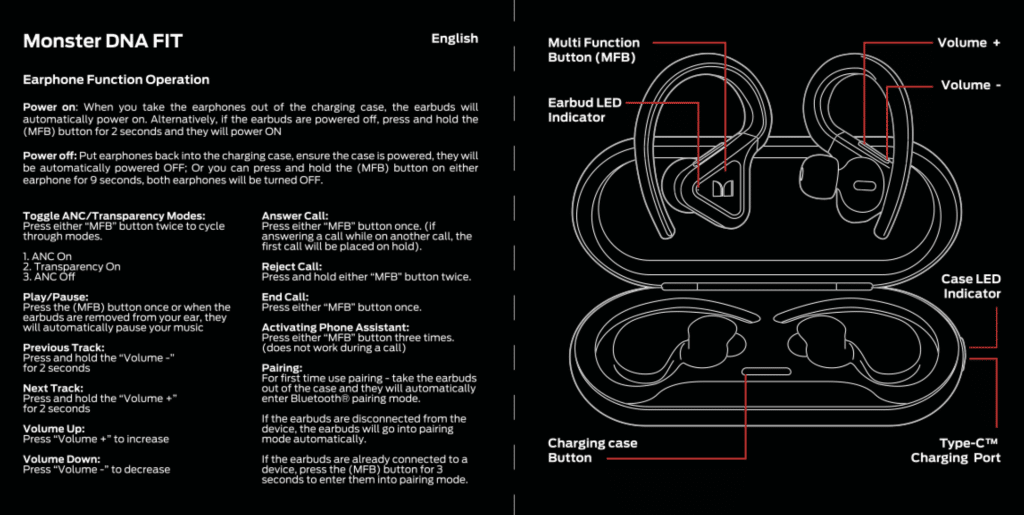 Something that stands out immediately is the use of physical buttons. Most headsets use touch based gestures, whereas DNA Fit uses intelligently placed buttons. Tapping the logo on either side will play/pause/answer/decline, along with a volume toggle that doubles as a track forward/back button is included as well. Monster went the extra mile to include this on both sides, along with placing it on the side inside the ear. This makes it harder to activate, though it should prevent most accidental activations.
Performance varied depending on the task. When I enabled ANC I was surprised how well it did with my air multiplier. At max power it was barely audible with no sound, with it disappearing when something was playing. I wouldn't trust these with more impactful sounds, though I could easily see these working well on a plane, train, or car trip.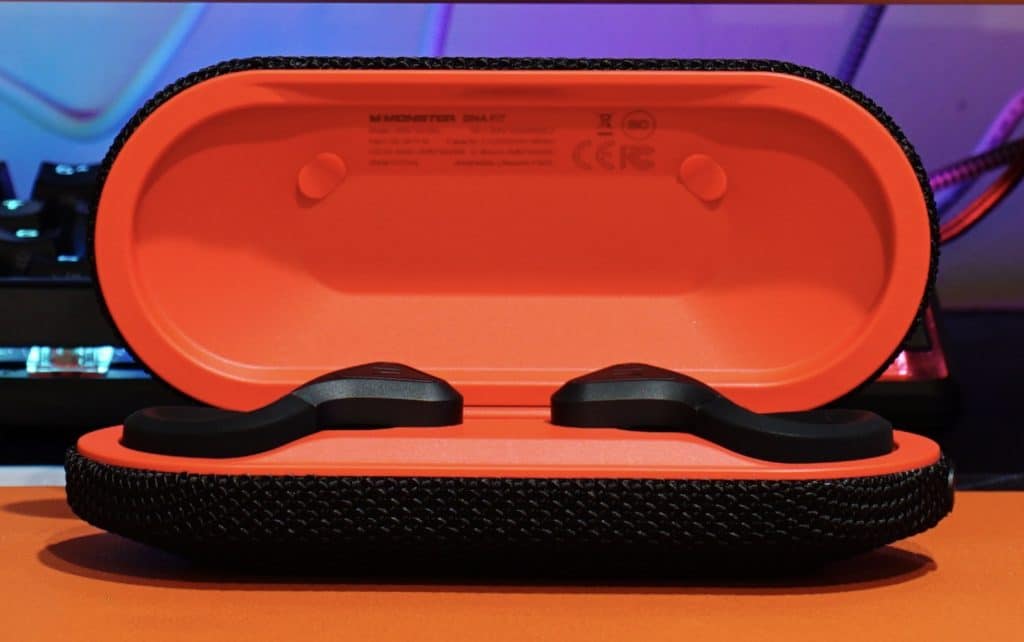 Where things went south was audio performance. Most songs had a distinctly bass heavy profile to them. While this isn't too bad, vocals were kind of washed out. I tested these with F2 and Monster DNA Fit was consistently the worst sounding option. In addition to weak vocals, the highs, and even mids just weren't that great.
Going back to Resident Evil 4 remake, the background voices were really washed out. It felt like a radically different experience compared to some previous test, which is unfortunate given these would be a great companion for Switch, Steam Deck.
That being said, it's typical of True Wireless headsets around this level. I used my old LG Tones against these, and they sounded about the same. I busted out one of my 1More True Wireless headsets with those offering a marginal improvement.
Bluetooth performance was exceptional. I had no issues with Monster DNA Fit remaining connected to my device. Like most Bluetooth 5.0 or better headsets, I was able to get to my car without an interruption. This is always nice to see, with the buttons making it easy to control things without messing with your phone.
Battery life is fairly typical for True Wireless headphones. With normal playback you can expect around 7 hours of battery life. ANC consumes a bit more power leaving you with roughly 5 hours. The case boasts around 34 hours that can also be used with quick charge to give around an hour of battery life in 15 minutes. Charging the case is only 2 hours of time, so not too bad.
Monster DNA Fit Review Verdict
Monster DNA Fit is going to depend on what you're looking for. Weak sound and a rather large case are absolutely going to turn some people off. However, the comfortable design, wide array of tips, and secure fit make a compelling counter argument. In the end DNA Fit is a jack of all trades kind of product. It includes a lot of alluring features at an attractive price; it just doesn't specialize in any of them to stand out.
For these reasons, if you're looking for a headset with ANC, wireless charging, and physical buttons, its a fantastic product. It's when you want to really experience the music, or have the smallest form factor possible that it starts to become a questionable purchase.